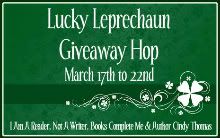 We're taking part in the Lucky Day Sweepstakes Event!!
Hosted by I Am A Reader, Not A Writer and Author Cindy Thomas.
Once you have entered our fantastic giveaway please take a look at all the other giveaways listed at the bottom of the post (after entering mind !!!)
SIGNED BOOK - Out of the Classroom Lessons in Success:
How to Prosper Without Being at the Top of the Class
by Cynthia Kocialski
OPEN TO US RESIDENTS ONLY
Ending on 23rd March at 12.01am est
In our grade-focused school years, the rules of success seemed as simple as making straight As. However, in the working world, success is often far more complex, and formal education is only the baseline to ensuring career advancement in a highly competitive world, where prospective employees are up against international candidates who have been long schooled in skills. Now, a self-professed over-achiever shares how her professional triumphs wildly strayed from the honor roll tactics in an eye-opening, easy-to-read compilation of truisms from the trenches of real life. Out of the Classroom Lessons in Success: How to Prosper Without Being at the Top of the Class offers hard-won wisdom on achieving professional glory that will serve as an invaluable resource to anyone who is contemplating a career, or for parents who want to help their children lay the groundwork for success in the work place.
Inspired by the experience of her daughters, Kocialski realized that many young adults graduate and are completely unaware of a new playing field that is not always predicated by superior grades or talents. In eighteen concise chapters, the author draws from her professional achievements and challenges to debunk common myths that can lead astray aspiring professionals in the early years of forging a career. This slim, indispensable book serves up the "aha!" moments that will assist young hopefuls and parents in navigating the path to success. Inspiring and uplifting, this simply brilliant take on creating a career will help anyone realize their goals, anyone avoid common pitfalls, and lay the groundwork through the secondary talents, skills, and mindset necessary for optimal success.
This amazing SIGNED BOOK giveaway is Open to US residents only
ending on 23rd March at 12.01am est
P
lease wait for Rafflecopter to load, if it does not load, please refresh page, thanku x
Enter Below n Good Luck !!